Jag vill önska er alla en riktigt God Jul. Det gör jag med en stor dos snö från Jokkmokk.
I want to wish you a very Merry Christmas. By giving you a big dose of snow from Jokkmokk.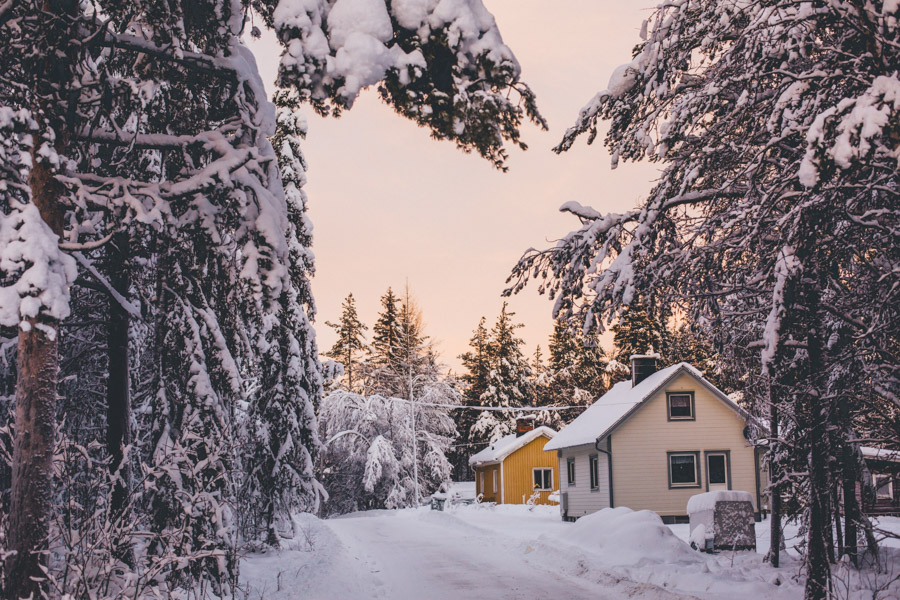 Jokkmokk är fantastiskt och har fått en speciell liten plats i mitt hjärta. De fina, välbevarade trähusen i centrum och snötäckta vägar så att bilar, snöskotrar och sparkar kan köra där ger Jokkmokk ett skimmer av sagolik julkänsla. Bara några steg utanför Jokkmokk välkomnar naturen en med både skidspår och skoterspår. Skoterspåren blev min räddning att komma ut till lite mer "orörda" marker då jag inte äger ett par skidor.
Jag vill tacka Linnea Sigurdson – anledningen till att jag hamnade i Jokkmokk. Hon vann min fototävling. Efter att vi hade gjort hennes porträttfotografering i Saxnäs (resultatet kommer nästa år) följde jag med till hennes hemstad Jokkmokk där hon arbetar som kommunikatör för Destination Jokkmokk. Många fina tips om sevärdheter, matställen och butiker fick jag. Det var så trevlig stämning överallt och jag inser mer och mer att jag trivs väldigt bra uppe i norr. Det är så lätt att få kontakt med människor här. Sen finns det något väldigt charmigt med dialekterna norrut som gör mig både lugn och varm. Dessutom har Jokkmokk stor samisk befolkning och mycket samisk kultur som jag har blivit väldigt nyfiken på efter mitt besök.
Favorittipset jag fick av Destination Jokkmokk var att besöka en plats där man kan mata fåglar. Fåglarna är så vana vid människor att de kan äta från ens hand eller mössa. Jag ringde upp Mats Karström, naturskyddsprofilen och biologiläraren, som har skapat denna plats och gjort besöken hos fåglarna med sina elever i många år. Han var så himla trevlig och gav mig vägbeskrivning samt instruktioner på vilken mat man skulle ta med sig. "Maten måste vara godare än den som redan är där", sa han. Så jordnötter blev mitt val. När jag väl kom till platsen välkomnades jag av att en fågel flög fram och satte sig på mitt huvud för att leta mat. Det hela var helt magiskt och det bubblade inom mig av glädje och förtjusning. Se fågelvideon från Instagram här >>
På väg tillbaka till Malmö fick jag ett tips att ta bussen till Murjek, som ligger vid Malmbanan, för att sedan ta nattåget till Stockholm. Den upplevelsen återkommer jag med i ett nytt inlägg.
Jokkmokk is fantastic and has become really special to me. The cute well-kept wooden houses in the city centre and the snowy roads for cars, snow scooters and kick-sleds give Jokkmokk a glow of fabulous Christmas feeling. Just a few steps outside Jokkmokk the nature welcomes you with ski tracks and snow scooter tracks. The snow scooter tracks helped me entering "untouched" nature because I didn't have any skis.
I want to thank Linnea Sigurdson – the reason I ended up in Jokkmokk. She won my photo contest. After finishing her portrait session in Saxnäs (the result will be presented next year) I joined her to her hometown Jokkmokk where she works as a communicator at Destination Jokkmokk. I got many great tips about sights, restaurants and stores. The armosphere was really great and I realize more and more that I really love it here up North. I find it very easy to get in touch with the people here. Then there's something very charming about the dialects up here which makes me calm and warm. In addition to this Jokkmokk has a big Samian population and a lot of Samian culture which has made me very curious after my visit.
The favourite tip I got from Destination Jokkmokk was a place where you can feed birds. The birds are so used to humans that they can eat from your hand or head. I contacted Mats Karström, a nature conservation profile and biology teacher, who has created this place to bring his students to for many years. He was such a nice man and gave me instructions on how to find the place and what food to bring. "The food needs to be better than the existing", he said. So I chose peanuts. When I arrived to the place a bird welcomed me by sitting on my head looking for food. The whole experience was so magic and I was so happy and excited. Se bird video from my Instagram here >>
On my way back to Malmö I got the advice to take the bus to Murjek, a village by the railway Malmbanan, to get the night train to Stockholm. I will get back to that experience in a new blog post.